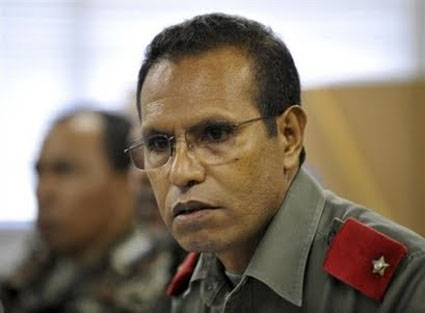 36th-Parallel Regional News Round-Up – April 18 2012
36th Parallel Assessments
[RSSjb feed="feed://36th-parallel.com/feed/" num="5″ pubdate="true" excerpt="false" charex="250″ list="ul" target="_blank" pubauthor="false"]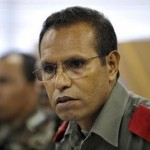 Timor Leste: Report – By Michael Bachelard in Dili – A military man recommended by the United Nations for criminal prosecution six years ago seems almost certain to become the new president of East Timor. Former commander of the armed forces Jose Maria de Vasconcelos, universally known as Taur Matan Ruak (or "Two Sharp Eyes"), was well ahead in provisional counting and is expecting to be declared the winner in the second round of the country's presidential election. With more than 60 percent of the vote counted, Ruak was up by 61 percent to Francisco "Lu Olo" Guterres's 39 percent. It appeared he had defeated his rival Guterres, from the former revolutionary Fretilin party, by an unexpectedly large margin. Guterres had polled highest in the first round. See, Pacific Scoop Report.
West Papua/MSG: The Vanuatu based West Papuan independence movement is again applying to become official observers within the Melanesian Spearhead Group. And at the same time they want Indonesia stripped off its observer status within the sub-regional body. Spokesman for the movement, Doctor John Ondawame says Indonesia should never have been grated official observer status within the MSG. He says West Papua's application will be submitted at the next scheduled MSG leaders summit in New Caledonia next year. See, Radio Australia Report.
Papua New Guinea: Morobe Governor Luther Wenge has called on the Australian Government 'stay out' from interfering on the National General Elections of the country. Responding to a Post Courier report yesterday, the firebrand politician said the Australian Government can pump in money and resources to support the election but that did not give them power to tell or direct the PNG government. Yesterday's report stated that Australia want to see a quick end to the rift between the three arms of government over the deferral of elections and the Judicial Conduct Act. "I want to make it clear and tell the Australian Government that they do not have the power to direct or tell us (PNG) how to run our elections. Our political and administrative leaders are matured enough in accordance with the constitution. And they have made the decision to postponed the election to three-weeks," Wenge said. See, PINA Report.
Papua New Guinea: InterOil accused of deviating from Gulf LNG project – By MALUM NALU – InterOil has been accused by state-owned Petromin of 'staging' the Gulf LNG project and not 'delivering' as per agreement with the government. The controversial and much-delayed Gulf LNG project took a new twist yesterday (Tuesday) with state-owned Petromin PNG Holdings accusing InterOil and Liquid Niugini Gas Ltd (LNGL) of deviating from delivering the project. This follows Prime Minister Peter O'Neill's denial of releasing any statement in support of the project, following the release of a statement by one of his staffers, Susuve Laumaea last Friday to this effect. The statement released by Laumaea, a former InterOil employee, said O'Neill supported the InterOil-led Gulf LNG project, which the prime minister has denied saying. See, Malum Nalu Report.
Solomon Islands: FORMER Member of Parliament (MP) for East Honiara Charles Dausabea has described Prime Minister Gordon Darcy Lilo as a 'liar'. Dausabea was responding to a statement made by the Prime Minister yesterday stating that he no longer has the power over the Republic of China (ROC) Taiwan discretionary funds. Dausabea claimed the $5.5 million which was the remainder of former Prime Minister Danny Philip's $10 million discretionary fund was shared $100,000 each to MPs in December last year as a Christmas gift from Prime Minister Lilo. The former MP who was supposed to be one of the recipients of a project under the funds said he even cross-checked with the Taiwanese Embassy in Honiara regarding the money. However, he said it was confirmed by Benny Wong an officer at the Embassy that Prime Minister Lilo has ordered the release of the funds in December last year. See, Solomon Star Report.
Australia/Pacific/US: Australia says it has no problems with the United States direct engagement with countries in the Pacific, 'as long as they consult with us', says its Washington-based top diplomat, Kim Beazley. Beazley, who is featured in the latest influential diplomacy magazine, 'The Diplomat' said it is good that the U.S is involved in the affairs of Pacific nations. "We have been arguing to – rather than with – the United States for a very long time that they become more involved in the region. So, we would do nothing but encourage them." Beazley said Australia appreciates U.S keen interest but cautions 'as long as it consults Australia.' See, PINA Report.
North Korea: (Reuters) – A bristling North Korea on Wednesday said it was ready to retaliate in the face of international condemnation over its failed rocket launch, increasing the likelihood the hermit state will push ahead with a third nuclear test. The North also ditched an agreement to allow back inspectors from the International Atomic Energy Agency. That followed a U.S. decision, in response to the rocket launch it says was a disguised long-range missile test, to break off a deal earlier this year to provide the impoverished state with food aid. See, Reuters Report.
Pacific Region: MELBOURNE (Radio Australia Pacific Beat / Pacific Media Watch): The director of the Pacific Media Centre at Auckland University of Technology says encouraging "peace journalism" in the Pacific is the best way to promote conflict resolution and a peaceful future for the region. Professor David Robie's paper "Conflict reporting in the Pacific" says Pacific journalists should be taught more in-depth reporting skills to explain underlying causes of conflict to contribute more balance in regional reporting. See, Pacific Media Centre Report.
Fiji: The Fiji Police Force recorded a 49 per cent increase in complaints against its officers in the first quarter of this year. Speaking to officers at their first quarter parade this morning, Police Commissioner Brigadier-General Iowane Naivalurua said his major concern is in the area of complaints against police and complaints against their service. Brig-Gen Naivalurua said complaints against police means that officers have failed to conduct themselves properly and did things that they should not have done. See, FijiLive Report.
Fiji:Fiji's laws and decrees do not restrict human rights, says Attorney-General Aiyaz Sayed-Khaiyum. Responding to a statement released by the Commonwealth Ministerial Action Group (CMAG) after their 37th meet in London on Monday, Mr Sayed-Khaiyum criticised the group saying that such comments on alleged restrictions on human rights were unfounded. "Political parties, non-governmental organisations and other organisations have had full freedom to meet," Mr Sayed-Khaiyum said. Given the fact that people were able to air their views to overseas and local media, Mr Sayed-Khaiyum said this was testament to the fact that no restrictions were forced on people. See, Fiji Sun Report.