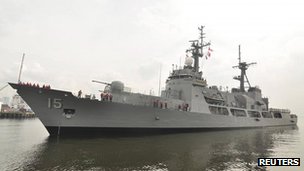 36th-Parallel Regional News Round-Up – April 12 2012
36th Parallel Assessments
[RSSjb feed="feed://36th-parallel.com/feed/" num="5″ pubdate="true" excerpt="false" charex="250″ list="ul" target="_blank" pubauthor="false"]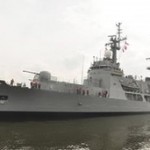 South East Asia: The Philippines has sent a second ship to a stand-off with two Chinese ships in the South China Sea, even as both sides pledged diplomacy. A coast guard boat will join the country's largest warship at the Scarborough Shoal, navy commander Vice-Admiral Alexander Pama said. A foreign affairs spokesman said the Philippines will continue negotiations with China. See, BBC Report.
South East Asia: While international attention is focused on if and when North Korea will follow through on its vow to launch a satellite this week, another Asian hotspot is flaring yet again. The South China Sea, witness to competing territorial claims by Brunei, China, Malaysia, the Philippines, Taiwan and Vietnam, is seeing tensions escalate again with a standoff between a Philippine warship and two Chinese surveillance vessels. See, The Diplomat Report.
Indonesia: Report – By Nurdin Hasan, Fidelis E. Satriastanti and Dessy Sagita in Banda Aceh – Two massive earthquakes off the coast of Aceh have triggered panic, tsunami warnings around the Indian Ocean and reminders of the horrific 2004 disaster, but little actual damage or injury. The first quake, which measured 8.5 in magnitude and struck at 3.28 p.m. Western Indonesia time, hit 346 km west of Simeulu in Aceh at a depth of 33 km, according to Indonesia's Meteorology, Climatology and Geophysics Agency (BMKG). The second, stronger at a magnitude of 8.8 but 100 kilometers farther west, hit at 5.43 p.m. At least 13 aftershocks were recorded, the strongest at a magnitude of 8.3. See, Pacific Scoop Report.
West Papua/France: PARIS (Reporters Sans Frontières / Pacific Media Watch): Reporters Without Borders offers its condolences to the family and friends of Leiron Kogoya, a journalist with the newspapers Pasific Post and Papua Pos Nabire, part of the Pacific Post group, who was killed in an attack by gunmen on a plane at Mulia airport in the province of Papua three days ago. "Although the journalist did not appear to be the target of the attack, it illustrates the insecurity that prevails in the region, where at least two other journalists were killed late last year," the press freedom organisation said. "Covering the Papua region is highly risky for journalists. Leiron Kogoya was among those courageous reporters who strive to keep the world informed about the region, which has been the scene of violent clashes. Our thoughts go out to his family and friends." See, Pacific Media Centre Report.
Papua New Guinea: The political stability Papua New Guinea enjoyed as a growing and prospering nation since Independence has evaporated in the past seven months, an academic said. The University of Natural Resources and Environment Vice-Chancellor Prof Philip Siaguru said the hope of the people had been shattered. He said the leadership needed at the political level of this nation appeared to have become "a leadership of revenge, dominance and control". See, PINA Report.
Papua New Guinea: All elections can be improved but they should not be postponed, United States of America ambassador to the Pacific, Teddy Taylor said. Taylor said in a statement even in old democracies such as the US, if the election was found to be in conflict with the Constitution, it should not be postponed but improved. "Postponing it could set bad standards," he said. "If elections were not to occur in accordance with the Constitution in PNG, it would establish a negative precedent. See, PINA Report.
Solomon Islands: AUSTRALIA'S Governor General Quentin Bryce's visit to the Solomon Islands is a clear expression of Australia's commitment in helping our country, Parliament Speaker Sir Allan Kemakeza says. When welcoming Ms Bryce at the Parliament House yesterday, Sir Allan said Australia has a big heart for Solomon Islands as well as other Pacific Island nations. "I convey my heartfelt gratitude because this is a significant occasion as it highlights the close bilateral relation that has steadily developed over the years," Sir Allan said. See, Solomon Star Report.
Solomon Islands: SOLOMON Islands will continue to support Taiwan in its fight to become a recognized member in the international community. These were the words of Deputy Prime Minister Manasseh Maelanga during the Republic of China Taiwan's Navy Squadron ceremony at the Lawson Tama Stadium. Mr Maelanga assured Taiwan that the Solomon Islands Government believed that Taiwan has fulfilled the fundamental principles and political realities of a sovereign state. See, Solomon Star Report.
Samoa: Gov. Togiola Tulafono has cautioned government directors not to get carried away during this political season and advised them to work together instead of being in conflict with each other. Togiola's statements, made during Monday's cabinet meeting, comes at a time when Samoa News has received reports from ASG employees who allege that certain directors are "bickering" with each other and important work cannot be accomplished due to "political" differences in gubernatorial teams they support. It also comes at a time when the gubernatorial team of Save & Sandra sent a letter to the Election Office, last week, requesting an official stance on gubernatorial candidates who are running in the 2012 General Election, and have not resigned from their government jobs. See, Samoa News Report.
Samoa: The Ministry of Communication Information and Technology (MCIT) has promised to keep an eye on the activities of Chinese company, Huawei ICT Company. The reassurance was issued by the Ministry's Chief Executive Officer, Tua'imalo Asamu Ah Sam, when he was asked to comment on reports that Australia has banned Huawei from bidding for work on their national broadband network (NBN). Tua'imalo said from his understanding, Huawei's only connection in Samoa is through Bluesky. He assured everyone that the telecommunication company are the ones involved with Huawei and are buying equipment from them. "The government didn't purchase any equipment from them (Huawei)," said Tua'imalo. "It's only BlueSky that have bought some materials from them and are in use at the moment." Concerns about Huawei were raised by Gagaemauga No. 2 Member of Parliament, Levaopolo Talatonu. See, Samoa Observer Report.