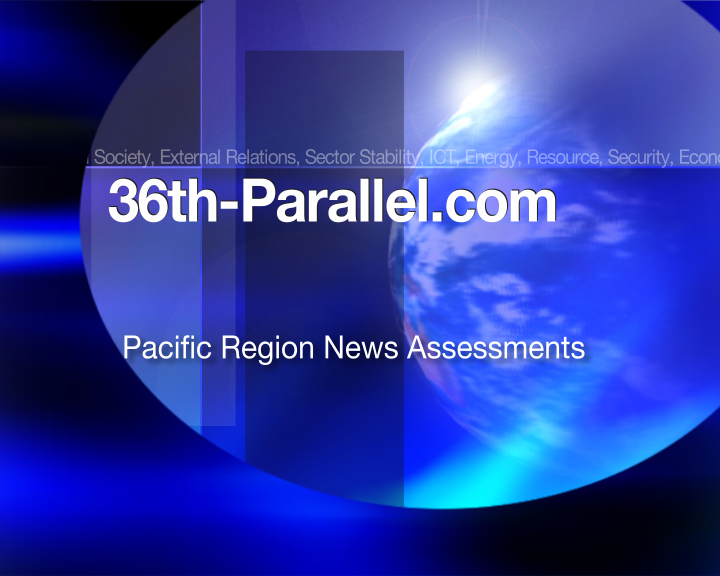 36th-Parallel Pacific Region News Round-Up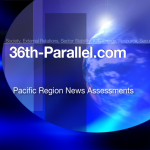 In Melanesia, significant instability is evident inside Papua New Guinea with Malum Nalu reporting the Chief Justice Sir Salamo Injia having been arrested by PNG Police after alleged mishandling of court funds. The arrest is the latest symptom of institutional instability that has flared since former PNG prime minister Sir Michael Somare challenged politically appointed Prime Minister Peter O'Neill's legal right to assume office.
PNG: Chief Justice arrested (Malum Nalu) – Chief Justice Sir Salamo Injia was arrested by police at the Waigani court house this morning. Our reporter is now at Konedobu police headquarters where Injia is being interviewed and questioned. Will keep you posted.  AAP, meantime, reports the government of Peter O'Neill in early February suspended the chief justice pending an investigation into alleged mishandling of court funds. See Malum Nalu Report.
Papua New Guinea: The exploration and exploitation of PNG's rich natural resource is integral to its strategic economic and political plan. And while PNG's Prime Minister Peter O'Neill promotes how multinational corporations like Shell are re-establishing a presence in PNG under his prime ministership, and despite institutional instability, PNG faces exploration/exploitation environmental challenges.
Insight – Mountain disaster asks questions of Exxon (Reuters) – A deadly landslide in the mountains of Papua New Guinea, near where U.S. oil major Exxon Mobil is building a $15.7 billion gas project, is raising fresh questions about the global energy industry's scramble for ever harder-to-reach resources. See Reuters Report.
Also in Melanesia, Pasifika Media Asociation reports how the Regional Assistance Mission to the Solomon Islands has swung into transition mode. RAMSI has been providing security and policing roles in the Solomons since 2003 when leaders of the Pacific region signed a non-aggression-pact at Townsville, Australia and deployed troops to Honiara and the outer Solomon regions.
Solomon Islands: RAMSI swings into 'transition mode' for Solomon Islands future (Pasifika Media Association) – The Regional Assistance Mission to Solomon Islands (RAMSI) programme has now swung into transition mode with Solomon Islanders taking a greater lead in defining their own future. RAMSI Deputy Special Coordinator Wayne Higgins highlighted this in Auckland last night when launching a photographic exhibition showcasing the history and achievements of the nine-year-old programme. See PMA Report.
Fiji: In an interview with Sky Australia's Graham Davis, Fiji Prime Minister Commodore Voreqe (Frank Bainimarama states geopolitical balance is shifting back into the Pacific.
Pacific geopolitical power balance shifting back, says Bainimarama – Interview by Graham Davis with Fiji regime leader Voreqe Bainimarama
- (Pacific Media Centre /Sky News Australia /Pacific Scoop / Pacific Media Watch): Fiji regime leader Voreqe Bainimarama has condemned Australian and New Zealand policies in the Pacific while new power brokers are at work in their backyard. Shunned by Canberra and Wellington since Frank Bainimarama's 2006 coup, Fiji now has new friends – such as Russian Foreign Minister, Sergey Lavrov, making the first ever visit to the region by a Russian leader. See PMC Report.
Pacific Region: UNDP head Helen Clark says strong leadership is urgently required to address the rise of HIV/AIDS in the Pacific.
Pacific: UNDP administrator says strong leadership critical for Pacific in fighting HIV/AIDS (PINA) – The administrator of the United Nations Development Programme says strong leadership is critical for Pacific Island nations in combating HIV/AIDS. Helen Clark, who is a former New Zealand Prime Minister, has been in Wellington to discuss the UNDP's work in tackling the epidemic. See PINA Report.
Australia: Much analysis is occuring in an attempt to define how newly appointed Foreign Affairs Minister Bob Carr will differ from his predecessor Kevin Rudd. The word is Carr is intent to return Australia as a significant player in the wider Asia Pacific region.
Bob Carr's moment: making Asia Pacific an Australian priority again (IslandsAsiaBusiness.com) – When Australia's new foreign minister Bob Carr appeared before the media to announce his appointment, he said, "you don't choose the moment – very often the moment chooses you." That moment finds Carr facing a myriad of political challenges in Australia's neighbourhood, from the long, drawn-out stand off with Fiji to the unfulfilled potential of ties with Indonesia. See IAB Report.
For Up To The Hour Pacific Regional News, see 36th-Parallel's OSI Pacific Resources (Media) section (Security Level-1).