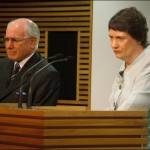 36th Parallel External Report, Tuesday, 21 December 2010
– Wikileaks publication of US diplomatic correspondence about New Zealand foreign policy paints an interesting picture of the evolution of the country's approach to international relations in the post 9/11 era, set against the backdrop of the chill in relations between the two states caused by the unilateral New Zealand declaration of a non-nuclear policy.
Analysis – By Paul G. Buchanan. First published at Scoop.co.nz – Tuesday, 21 December 2010, 9:41 am.
Underneath the rhetorical championing of a "principled but pragmatic, independent and autonomous" foreign policy formulated in the 1990s, the Fifth Labour government and its successor have worked hard to fully restore bilateral relations with the US even if domestic political considerations on both sides impede them publicly declaring so.
Quiet diplomacy culminating in the 2006 "Matrix" meetings in Bangkok set the stage for the strategic partnership announced in the Wellington Declaration signed in November this year. A US ally in everything but name and lacking only a bilateral trade agreement to cement the relationship, New Zealand has taken a decisive step towards creating a post-9/11 version of the ANZUS partnership that was the foundation of US-New Zealand relations during the Cold War.