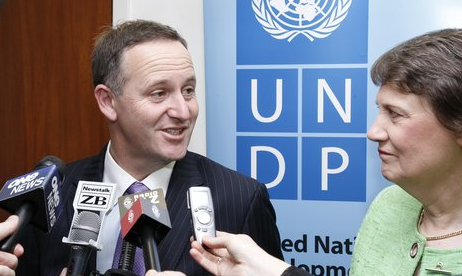 36th-Parallel Regional News Round-Up – March 22 2012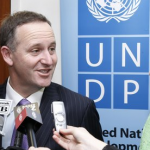 New Zealand:
36th Parallel Weekly Analysis: Nuclear Iran – New Zealand's Silence Is A Foreign Policy Shift – As one of the most conspicuous non-nuclear states in the world, New Zealand has a long history of involvement with non-proliferation and disarmament issues. It is a long-standing member of the International Atomic Energy Association (IAEA) and of the Nuclear Suppliers Group (NSG) and is a signatory to the Non-Proliferation Treaty (NPT).
Given that profile, it seems odd that New Zealand has remained relatively silent on the issue of the Iranian nuclear program and suspicion that Tehran has designs on manufacturing a nuclear weapon. See, 36th Parallel Report.
Tonga: Tupou VI, proclaimed new King of Tonga – Tonga's Government and Judiciary has proclaimed Crown Prince Tupouto'a Lavaka at the new King Of Tonga. A statement was issued that said: "with one full voice and consent of tongue and heart, publish and proclaim that Crown Prince Tupouto'a Lavaka has now become the only lawful and rightful heir to the throne, King of the Kingdom of Tonga, to whom we do acknowledge all faith and constant obedience with all hearty and humble affection, beseeching God by Whom Kings and Queens do reign, to bless His Majesty King Tupou VI with long and happy years to reign over us." See, Pasifika Media Association Report.
Tonga: Tonga needs to identify young leaders to carry on the kingdom's political reforms into the future, says an Auckland-based community leader. Tongan Advisory Council chairman Melino Maka said today King George Tupou V's unexpected death last Sunday left uncertainty about the reforms. Good leadership was essential for development – both economically and politically, he told a media conference at AUT University: "We need to identify young leaders who can carry Tonga into the future." See, Pacific Scoop Report.
Papua New Guinea: Australian foreign Minister Bob Carr's threats of sanctions against Papua New Guinea show his inexperience, his counterpart Ano Pala says. Pala was responding to a question in parliament from former attorney general Sir Arnold Amet, who wanted to know how Senator Carr explained away last week's comment on Sky News to "organise the world" into sanctions against the Pacific nation if it delayed the 2012 poll. See, PINA Report.
Solomon Islands: A mock parliamentary debate to celebrate International Women's Day in Solomon Islands has resulted in a decision to form a working group to look further into creating reserved seats for women. Ruth Maetala, who took part in the debate, says the new committee will work with the legislative taskforce already investigating how to apply temporary special measures in the Solomon Islands context by 2014. See, PINA Report.
For Up To The Hour Pacific Regional News, See 36th-Parallel's OSI Pacific Resources (Media) section (Security Level-B).