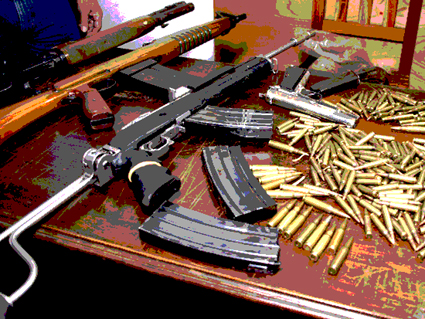 Arms Smuggling Into PNG From Indonesia As Elections Draw Close
First published in the Post-Courier and Pacific Scoop (Pacific Media Centre)
Report – By Frank Rai in Port Moresby.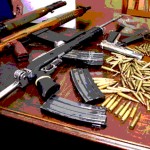 Police in Vanimo have confirmed a gun running syndicate operating between the Highlands region of Papua New Guinea and Indonesia is smuggling high-powered firearms into the country.
With national elections due in late June, there are reports of high-powered firearms entering PNG across the border.
Provincial Police Commander (PPC) Senior Inspector Tilae Michael told the Post-Courier there were reports of weapons and other dangerous goods entering the country but the understaffed authorities manning the border could not do much.
Inspector Michael said there was a syndicate operating in the country where firearms were entering the country from Indonesia to Vanimo, West Sepik province, to Mount Hagen in the Western Highlands province.
The PPC said the syndicate had operated in Indonesia, Vanimo, Wewak and Mount Hagen but police and other government agencies included PNG Defence Force and PNG Customs were constrained by funds and logistics in carrying out investigations.
Inspector Michael said the PNG-Indonesia border covered a vast land mass area from West Sepik province to Western Province with the open sea which needed close monitoring.
He said police had confiscated a number of weapons with other restricted goods but people were still accessing other routes to take those goods into the country.
He said police in Vanimo and Aitape were on full alert but funds and logistics were a predicament for the operations, adding that those should be provided for a successful operation.
"Police in Aitape had arrested a man on an outboard motorised dinghy loaded with firearms and are interrogating the suspect to connect his networks. The man was first sighted in Vanimo and later caught in Aitape last week," Inspector Michael said.
He added that such incidents were happening daily and that more arrests would have been made if there were appropriate logistics available.
Inspector Michael said the two special operations carried out by Police Mobile Squad unit and the PNGDF within the last few months were successful and such operations should continue.
He also called on the police hierarchy in Port Moresby to release the police boat to Vanimo for the water policing unit to patrol the sea at the border.
He said the sea and the land should be closely monitored and both sea, air and land transport were needed for the border operations.
Source: PNG Post-Courier