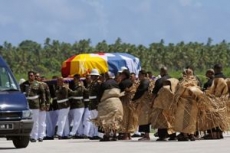 36th-Parallel Regional News Round-Up – March 27 2012
36th Parallel Assessments
[RSSjb feed="feed://36th-parallel.com/feed/" num="5″ pubdate="true" excerpt="false" charex="250″ list="ul" target="_blank" pubauthor="false"]
Audio Outlink: 36th Parallel's Paul Buchanan on NewstalkZB with Mike Hosking on tension over North Korea rocket launch. Click here to listen.
Tonga: Sombre scenes as Tonga's late king comes home – Thousands of sombre Tongans, swathed in black, lined the Pacific island nation's roads Monday to welcome home the body of their late king, an eccentric reformer who died in Hong Kong last week. The impoverished nation's new monarch, King Tupou VI, accompanied his late brother King George Tupou V home on a China Southern Airbus A330 that touched down in Nuku'alofa at about 1:30 pm (0030 GMT), AFP reporters witnessed. See, PINA Report.
Fiji: SUVA (Australia Network News / The Fiji Times / Pacific Media Watch): Regional news groups have converged on Fiji for this week's Pacific Media Summit. The event is being held at Pacific Harbour and is being hosted by the Pacific Islands News Association (PINA), the region's main media body. It is the second Pacific Media Summit to be held by PINA. PINA's decision to hold the summit in Fiji has not been without controversy because of the censorship of local media by the Fiji interim government. See, Pacific Media Centre Report.
Fiji: Fiji's Prime Minister Commodore Frank Bainimarama has dismissed calls for the Fiji constitution to address the role of the country's military. The government says all Fijians will have a voice in consultations on the new constitution which are due to get underway in July and there have been calls for the military's constitutional role to be discussed. Commodore Bainimarama was asked by Auckland-based Radio Tarana what he thought of such calls. See, PINA Report.
Timor Leste: Analysis – By Pat Walsh in Dili – It has been clear for some time that 2012 would be a watershed year for East Timor. In addition to marking 500 years since the arrival of the Portuguese and 100 years since the fabled Dom Boaventura led a robust revolt against them in 1912, 2012 also marks 10 years since full independence and will see two elections. The first of these was held earlier this month and involved 12 candidates competing for the presidency. The poll results indicate that the Timorese spirit of independence, exemplified by Dom Boaventura and more recently by the Resistance, has been rediscovered and is alive and kicking. See, Pacific Scoop Report.
Melanesia: Melanesian Spearhead Group (MSG) foreign ministers meet in Suva today with climate change and the environment to be one of the key issues on the agenda. Fiji's Minister for Foreign Affairs and International Cooperation Ratu Inoke Kubuabola said this meeting was convened following concerns expressed that the MSG region's environmental issues and climate change interests were not being given prominence at regional and international meetings. Opening the meeting, Ratu Inoke said they will be discussing a report of the inaugural MSG Environment and Climate Change Ministers Meeting in Nadi earlier this year. See, PINA Report.
Tonga/NZ: AUCKLAND (95bFM/Pacific Media Watch): A new revealing book by Dr Teena Brown Pulu on the Tongan government decision to dismiss her report on the Nuku'alofa rebuilding project was the topic of conversation on bFM's The Wire programme today. Presenter Will Pollard spoke to Pacific Media Watch contributing editor Alex Perrottet about the book, which accuses the advisors to the Tongan Prime Minister, Lord Tu'ivakano, of having far too much political power. See, Pasifika Media Association Report.